SKF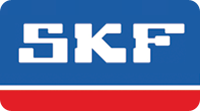 About SKF:
AB SKF is a Swedish bearing and seal manufacturing company founded in Gothenburg, Sweden, in 1907.
SKF is a world leader in rolling bearings and related technologies including sealing solutions, lubrication systems, mechatronics (combining mechanics and electronics into intelligent systems), and services.
SKF offer solutions around the rotating shaft, including bearings, seals, lubrication, condition monitoring and maintenance services. Today SKF is comprised of 44,000 professionals working in 40 different industry segments in 130 countries.
Find out more about our history and where we are going in the future by clicking this link: www.skf.com